Announcements and Reminders
You are invited to attend our monthly dinner (except as noted) held at 6:30 pm on the third Tuesday of each month at 5th & Warren, Bremerton -Stated at 7:30 pm.
Ritual practice on Tuesdays.
See Calendar:

Grand Lodge Events:
Click Here
Announcements:

Upton Coin: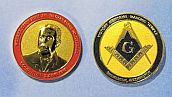 Help
Help for navigating the site:
ANNOUNCEMENTS The Hot items of interest. More on the EVENTS bar

ABOUT MASONRY provides a general overview of Masonry and Masonry in this area. More on the INFORMATION bar.

UPTON EVENTS: Lists currently planned lodge events of interest to masons. More on the EVENTS bar.

CONTACT US If you have questions and would like someone to contact you, this page is a good place to find email and mail addresses for specific men who can help you and a means for you to send requests to us.

MEMBERSHIP If you would like to find out more about Masonry or get info about becoming a Mason, this page may be of interest. Here you can request membership information or an application form. Please note that you will need to contact Masons from this Lodge as references.

LINKS This page provides links to other web sites you may find interesting and educational.

SITE INDEX: This page provides another means of finding information at this site.


•Officers: lists this year's officers of our Lodge and their email and phone information.
•Map: want to visit us? Here is a map.
•History: provides a short History of our Lodge founded by Marine General Pendleton.
•Newsletter: The Newsletter, called the TrestleBoard, provides current look at what we are doing.
•Facilities: Our Temple at 5th and Warren in Bremerton is a popular spot for community events; details about use of our facility for weddings, etc. are listed on this page.
•Community Support: Masons are involved in charitable and community activities. More info is provided on this page.
•Enlightenment, Library and Education: Our local Masonic Library has over 400 volumes. Some of these books may be of interest to you. Links to educational masonic information and officer development are also provided.
•Videos and Photos are on the INFORMATION bar.
•The "Links | Index" menu bar provides access to menu options for setting page and font sizes, access to the Sitemap, and external links of interest.