Page 1
Events
Stateds: Third Tues of each Month
Dinner at 6:30 pm Meeting at 7:30 pm
Our Lodge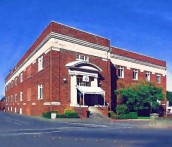 Submissions should be forwarded to our Newsletter Editor no later than the 21st of each month.
Contact the Secretary for submissions or to get your name added to the mailing list.
Our latest issue is listed below.
Introduction and Overview
The Freemasons are members of a Fraternal Organization dedicated to making good men better and thereby making the community better.

Wm. H. Upton Naval & Military Lodge was chartered in 1915. The early members included many men who made significant impact locally, nationally, and internationally. These included: Colonel Pendleton, Captain Robert E. Coontz, who was later to become Chief of Naval Operations for the US Navy. Brother Luther E. Gregory was the first chartered Master of the Lodge. Admiral Gregory during and after his illustrious Naval career performed important services for Masonry.

Charleston Lodge was chartered in 1926 by Edwin E. Wright and others. In 1995 Charleston Lodge and Wm. Upton Lodge merged. Both these Lodges have close ties to the Puget Sound Naval Shipyard in Bremerton, Washington.